NitroPress Nitrogen Coffee Cocktail...
$49.99
$49.99
Pure Nitrogen N2 chargers, made for NitroPress by Hatfields London. Create instant nitro infused coffee and cocktails. N2 chargers infuse drinks with nitro to give it that signature smooth velvety texture and a distinctively creamy quality. Made for NitroPress The NitroPress is a product innovation that can infuse a whole range of cold beverages with pure nitrogen. Designed for busy kitchens and bars, nitro infusion creates drinks with a smooth velvety texture without the usual complexities of requiring machinery, installation and large gas canisters. A professional grade solution for nitro infused coffee, cocktails, tea and more. The NitroPress is the most portable solution, combine with N2 chargers for nitro beverages infused to perfection. Designed for use with The Original NitroPress - Infuse Nitrogen into any Coffee, Tea, Beer, Alcohol, etc! Bartenders & Baristas - Serve two coffee's or up to four cocktails in one hit Coffee Cocktail Chargers work with similar principles to a full draught nitro system - but at reduced size and footprint Fully recyclable once used - can be placed in the recycling bin with your drink cans and bottles. Use one charger for each 500ml volume of liquid
NitroPress DS 2.0 -...
from

$369.00

$499.00
    Pre-orders are now open. Estimated delivery is February 2024. Join the nitro movement today!   NitroPress DS 2.0 Pricelist 2023 Option 1 - Docking Station only - MSRP USD $369 (not available) Option 2  - Docking Station Including NitroPress Dispenser (Stainless Steel model) - MSRP USD $499 PRODUCT OVERVIEW We've spent the past few years designing and developing the world first nitro docking station to provide unlimited power for our flagship NitroPress. Nitro Coffee and other culinary creations are now available on demand, at the simple press of a button. No more single use chargers, no more waste. The environmentally friendly solution has arrived. Box Contents include NitroPress DS 2.0 docking station compatible with your existing NitroPress (Stainless Steel or Copper) Compatible with The Original NitroPress (500ml only) Copper Edition NitroPress (500ml only) iSi Profi whip Generic cream whippers (not guaranteed)  Existing science. Novel technology. In 2018 we designed the world first nitro coffee dispenser and innovation has been part of our DNA ever since, the concept was conceived through realising the need for a sustainable and commercially effective solution to creating nitro drinks. The design brief was simple, create an easy to use, professional grade machine that was intuitive and included all the great features of the Original NitroPress, without any of the downsides. Fill the NitroPress Pro with your favourite cold brew coffee or cocktail, screw the head unit on, dock down and pressurise. It's as simple as that.  How to get setup Included with the NitroPress DS 2.0 is an adaptor which is screwed on in place of the charger holder you normally use. Simply screw our patented adaptor on by hand and your NitroPress can now be charged endlessly without the need to buy gas chargers ever again.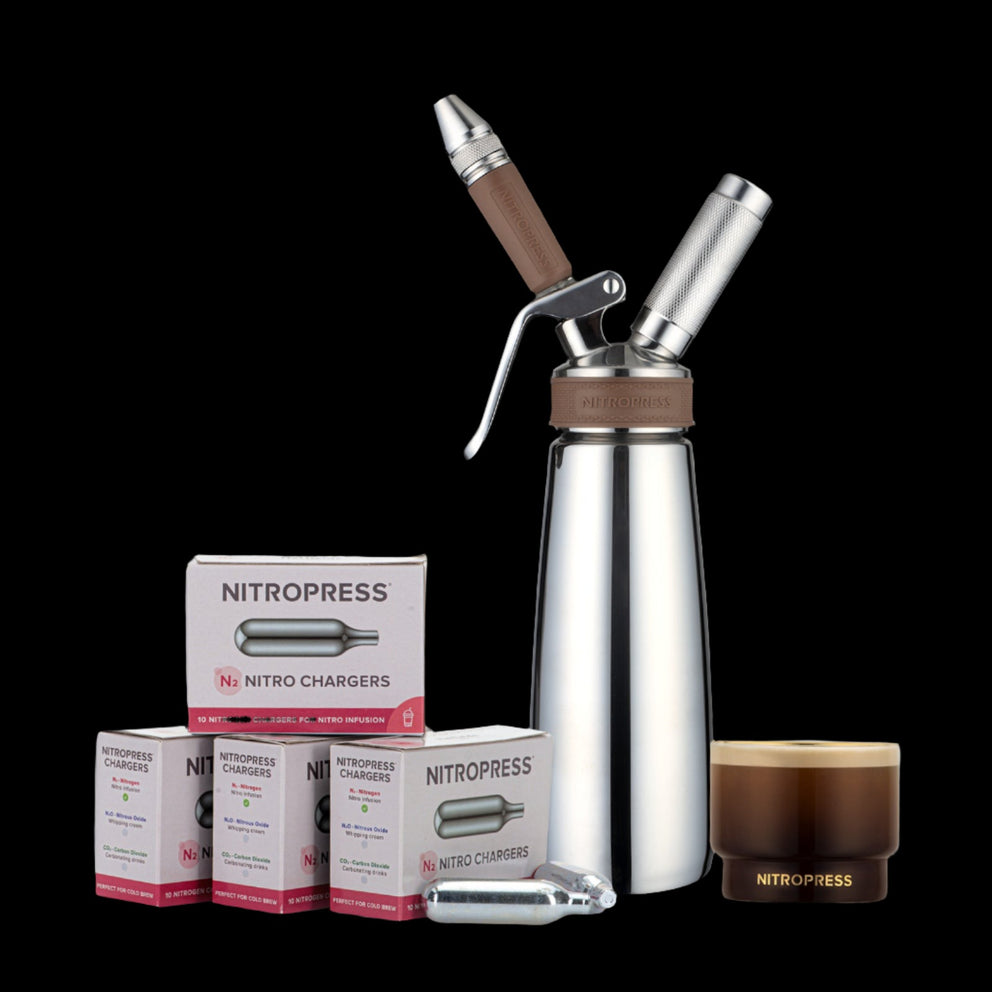 The Original NitroPress Starter...
$219.99
$219.99
The NitroPress by Hatfields London. Create instant nitro infused coffee and cocktails. The NitroPress is a product innovation that can infuse a whole range of cold beverages with pure nitrogen, without going out to your local coffee shop. Designed for busy kitchens, bars and home use, NitroPress is the fastest and easiest cold brew coffee makers to rival nitro cold brew machines like those found in Starbucks. Creates nitro cold brew drinks with a smooth velvety texture and creamy head. A professional grade solution for nitro infused cold brew coffee, cocktails, tea and more. Designed especially for use with our innovative NitroPress N2 Chargers. The NitroPress is the most portable solution for nitro beverages infused to perfection. Add Nitrogen Instantly! The Frothy, Airy & Creamy Texture of Dairy can be added to any drink - without the Dairy & Zero Calories. Patented High Pressure Nitro Nozzle + 2 Year Warranty Taste the Difference: The NitroPress with our Pure Nitrogen (N2) Cartridges, infused as micro-bubbles to give the a smooth velvety drink. Other Cream Whippers use Nitrous Oxide (N2O) which tends to over-foam and loses drinkability - thus better utilized for Whipping and Volumizing Cream Truly Portable - An elegant way to infuse Nitrogen into any Cold Brew, Coffee, Tea, Beer, Milk, Anything You Can Think of. No Plugs + Countertop Friendly = Nitrogen Infusion when you want it. Fully Stainless Steel & Dishwasher Safe For all the Bartenders & Baristas: Batch Make Cocktails for Speed & Efficiency. Serve Two Coffee's or Up to Four Cocktails in One Hit. Fits 3 cartridges: N2 Pure Nitrogen (Recommended for Drinks), N2O Nitrous Oxide (For Desserts & Cream), CO2 Carbon Dioxide (For carbonated & fizzy drinks) Store in the Fridge & Keep Contents Fresh = Ready to use at any time. Use to flavour infuse with all natural ingredients (cinnamon sticks, mint leaves, cacao nibs etc). Check out our blog posts and recipes to find out more about nitro cold brew coffee and how to make it at home in your kitchen using just coffee grounds and cold water.   Size: 13in tall / bottle diameter 3in (33cm tall / diameter 7.5cm) - including nozzle (Glass tumbler's and cold brew coffee available separately)